PeakTails® Skin & Coat
Veterinarian-recommended complete skin and coat supplement for dogs.
Formulated with fish oil, coconut oil, MSM, omega 3, 6 and 9 essential fatty acids, vitamins and minerals to render healthy skin and shiny coat.
4 to 1 ratio of omega 6 to omega 3, optimal for dogs.
Wholesome, savory taste including 30% natural flavors.
Fast, FREE shipping through Buy with Prime.
Not available on Autoship Orders.
See details.


100% Money
Back Guarantee

Free Shipping on
Orders Over $39

100% Satisfaction
Guaranteed
PeakTails Skin & Coat
PeakTails Skin and Coat is a veterinary-formulated skin health supplement.
PeakTails Skin and Coat contains essential fatty acids for a healthy, soft, shiny coat. It helps control excessive shedding and contributes to balanced skin health.
PeakTails Skin and Coat supplement adheres to stringent label requirements and random third-party product testing. Made in the USA with premium domestic and imported ingredients.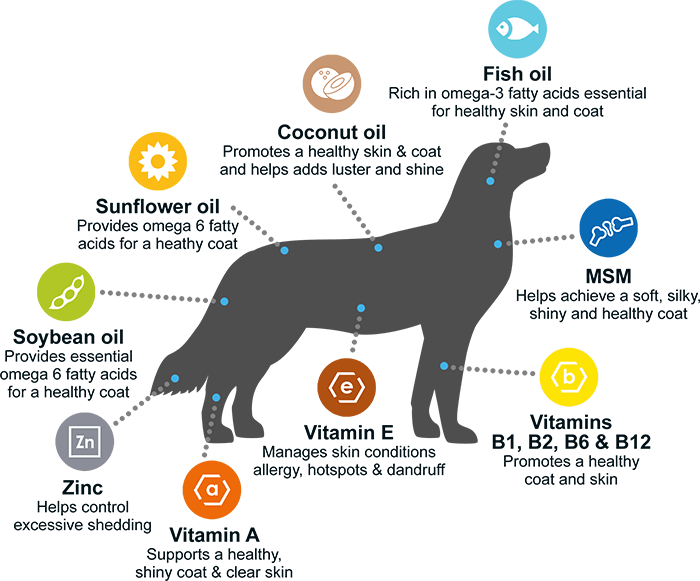 Fish oil

Contains omega 3, which minimizes inflammation, improves skin and coat health, and balances the properties of omega 6 fatty acids.
Sunflower oil

Formulated with omega 6 to stimulate skin and hair growth and hydrate fur to enhance softness and shine.
Soybean oil
Omega 6 fatty acids in soybeans contribute to a healthy skin and coat.
Coconut oil

Soothes dry, itchy skin, reduces allergic reactions, and restores a shiny coat.
OptiMSM

®
Promotes healthy skin, nails, and a lustrous coat.
Vitamin A

Supports a healthy, shiny coat and clear skin.
Vitamin E

Assists in managing skin conditions such as allergies, hotspots and dandruff.
Vitamins B1, B2, B6, and B12

Improves skin and coat health while boosting the immune system.
Zinc

Helps prevent shedding and hair loss.
Product Facts
Guaranteed Analysis per 3.2 gram Tablet:
(All amounts are minimum unless otherwise noted)
| Ingredient | Amount |
| --- | --- |
| 1Crude Fat | 15% |
| Moisture (max.) | 4.8% |
| Linoleic Acid (Omega-6 Fatty Acids) | 61.55mg |
| EPA (Eicosapentaenoic Acid) | 9 mg |
| DHA (Docosahexaenoic Acid) | 6 mg |
| Calcium (min.) | 91 mg |
| Calcium (max.) | 95 mg |
| Zinc | 5 mg |
| Vitamin A | 1,500 IU |
| Vitamin E | 20 IU |
| Thiamine (Vitamin B1) | 0.04 mg |
| Riboflavin (Vitamin B2) | 0.02 mg |
| Pyridoxine (Vitamin B6) | 0.03 mg |
| Vitamin B12 | 0.002 mg |
| *Omega 3 Fatty Acids | 0.8% |
| *Methylsulfonylmethane  (OptiMSM®) | 200 mg |
1Includes Omega 3, 6 and 9 Essential Fatty Acids.
*Not recognized as an essential nutrient by the AAFCO  dog food nutrient profiles.
Ingredients:
Natural Flavorings, Whey Solids, Powdered Cellulose, Calcium Carbonate, Methylsulfonylmethane, Soybean Oil, Silicon Dioxide, Sunflower Oil, Stearic Acid, Fish Oil, Coconut Oil, Vitamin E Supplement, Zinc Acetate, Vitamin A Palmitate, Vitamin B12 Supplement, Thiamine Mononitrate, Pyridoxine Hydrochloride, Riboflavin Supplement.
Calorie Content: Metabolized Energy (ME) as fed: 3,510 Kcal/kg/tablet
Feeding Directions (For use in dogs only)
For best results, use daily. Administer as a treat or snack prior to feeding. May also be crumbled and mixed with pet food.
| Weight | Serving Size |
| --- | --- |
| Small dogs & cats (5-20 lbs) | ½ tablet daily |
| Mid-size dogs (21-50 lbs) | 1 tablet daily |
| Large dogs (51-80 lbs) | 2 tablets daily |
| Very large dogs (81-110 lbs) | 3 tablets daily |
| Giant breed dogs (over 110 lbs) | 4 to 5 tablets daily |
This product is intended for intermittent or supplemental feeding only. Not for human consumption. Keep out of reach of children and animals. In case of accidental overdose, contact a health professional immediately. Do not use if tamper-evident seal is broken or missing. Store in a cool, dry place.
OptiMSM® is a registered trademark
of Bergstrom Nutrition, Inc.
Ester-C® is a registered trademark
of the Ester-C Company
OmniMin™ is a trademark
of Mineral Resources International, Inc.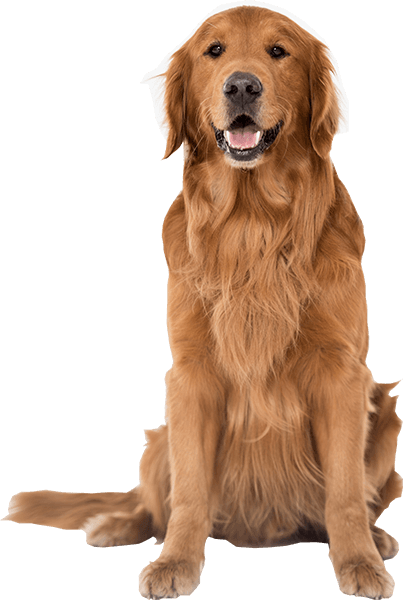 Integrity and Safety Guarantee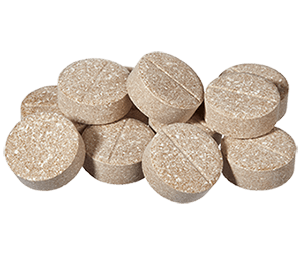 INTEGRITY
We verify and test our ingredients before production. Our products are tested multiple times throughout the manufacturing process.
Ingredient verification

✓

COA for every ingredient

✓

Core tablet hardness

✓

Finished tablet thickness

✓

Core tablet weight

✓

Tablet disintegration

✓

Friability

✓

Active ingredient levels

✓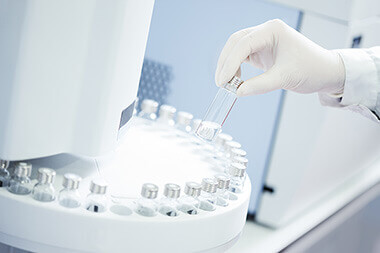 3rd PARTY TESTING
Every batch is 3rd party tested to ensure it is free from harmful microbes.
Microbiology:
Total Aerobic Mocrobial Count: <10 cfu/g ✓
Total Yeast and Mold Counts: <10 cfu/g ✓
Salmonella: Absent ✓
Escherichia coli: Absent ✓
Staphylococcus aureus: Absent ✓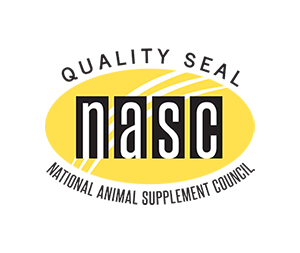 NASC
A  proud member of the National Animal Supplement Council since 2010. The NASC Quality Seal on our products means:
Made in FDA-inspected facility

✓

Passed rigorous quality requirements

✓

Passed independent facility audit

✓

Adhere to stringent labeling requirements

✓

Products are subject to random testing

✓

Active ingredients in our products are verified

✓

Provide real-time product monitoring

✓

Free & Easy No-Risk Returns
FREE MSM Cream 2oz with
MSMPure product purchase*
$19.95 Value!
FREE PeakTails Skin & Coat 12ct with
animal health product purchase*
$9.95 Value!