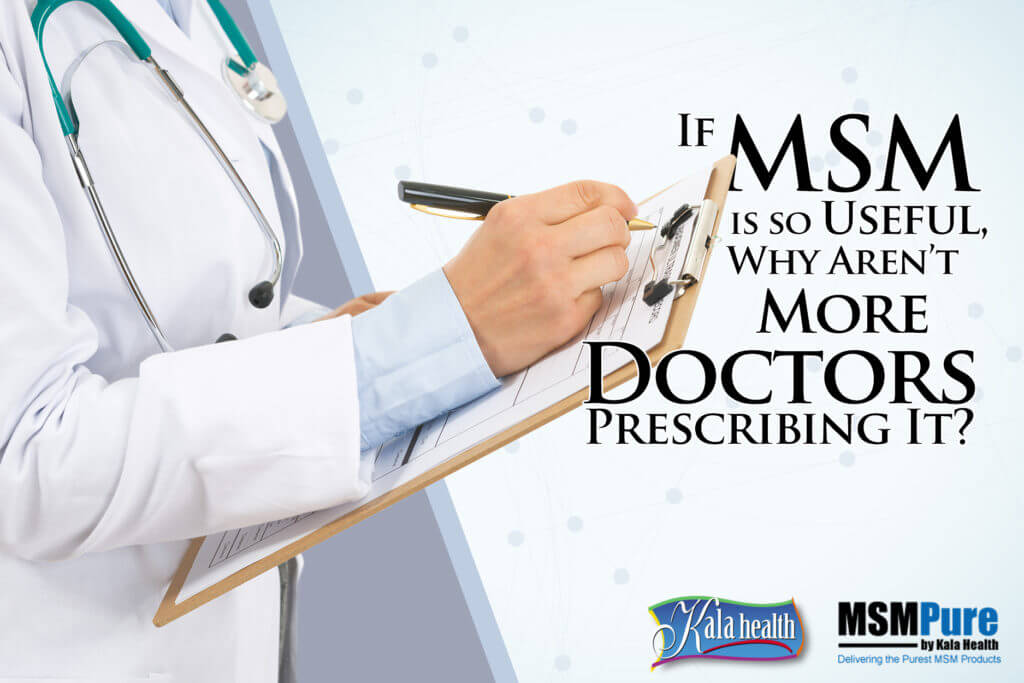 Thousands of people have used our OptiMSM products to successfully address their joint and muscle problems, recover from athletic injuries, improve their dermatological health, and boost their immune systems.  Dozens of studies have shown that MSM can effectively boost health in many ways with no harmful side effects or other dangerous risk factors.  With all of the potential benefits without any drawbacks, you would think that MSM would be widely prescribed by doctors to all of their patients.  Yet this isn't the case.  Why?
Unfortunately, our medical system isn't perfect.  Though the great majority of doctors are very well meaning, there is an inescapable truth that our healthcare system is, at its essence, a tangle of profit motivated businesses that cater to stockholders as much as patients.  The biggest players in this network are the giant pharmaceutical companies, which develop and manufacture all of the drugs that doctors, hospitals, and pharmacies make money by prescribing and selling.  The government also has a significant hand in the pot, because it relies on pharmaceutical companies to cover the cost of the new drug approval process and provides patent protections in return, a system which many critics say creates an inherent conflict of interest for the regulators charged with keeping an eye on drug makers.  Hospitals and doctors are also accused of being under the sway of drug companies.  The pharmaceutical industry paid about $3.5 billion to healthcare professionals and teaching hospitals in 2013, including roughly $350 million directly to doctors.[1]  This is significant, because, as ProPublica analysis demonstrated, there is a direct link between money paid to doctors (even in the form of a free lunch) and doctors decisions to prescribe certain drugs.[2]  All of this means a system in which makers of dietary supplements can never hope to compete with drug companies.
Though the dietary supplement industry has been growing in recent years, it is still tiny compared to big pharma.  The sixth largest pharmaceutical company in the world, Merck, made more money in 2015 than the entire United States supplement industry COMBINED–$42.237 billion vs. roughly $36.7 billion, respectively.  The largest of the pharmaceutical giants, Johnson and Johnson, had revenue of $74.331 billion, making that one company more than twice the size of the entire US supplement industry.
Another factor contributing to the dominance of pharmaceuticals over dietary supplements like MSM is the ability to pay for testing.  The largest makers of dietary supplements lack the tens of millions of dollars that it takes to pay for the large-scale research studies that pharmaceutical companies can afford.  Because of this, some doctors remain skeptical of nutraceuticals as "unproven."  By this standard, however, everything remains unproven until vast sums of money are spent demonstrating otherwise.  The problem is one of market incentive.   Dietary supplements like MSM are natural products found commonly in nature, and cannot be subjected to intellectual property restrictions–meaning anybody can make them (though of course, making highly pure MSM, like OptiMSM, is a far more difficult process).  When a drug company develops a new pharmaceutical, it can patent its chemical formulation and sell that drug at exorbitant rates, making billions of dollars.  If a big pharmaceutical company were able to patent MSM in that way and be the only company allowed to sell it, it's quite likely that you would be seeing expensive ads on television marketing MSM under a focus group developed brand logo, and doctors would write prescriptions for MSM that pharmacies would fulfill for $5 a capsule.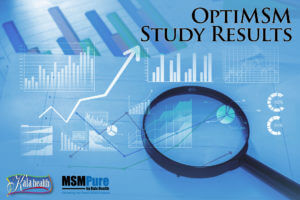 OptiMSM Study Results
All of this doesn't mean that there are no studies demonstrating the efficacy of OptiMSM.  Despite the hurdles, some researchers are still able to find the resources to conduct studies on MSM to see if it lives up to all the hype.  These studies have demonstrated results that back up the anecdotal evidence.  In one double-blind, placebo controlled research study, taking three grams of MSM twice daily made a statistically significant improvement in 100 subjects, with no adverse effects reported.[3]  In another study using OptiMSM, the performance of jumping horses taking OptiMSM with their food improved over similar jumping horses in a control group who did not receive the supplement.[4]  Other studies have found that OptiMSM lessens the destructive changes in joints, reduces arthritic swelling and deformation, decreases degeneration of cartilage, and reduces inflammatory reaction in synovial fluid.  See here for complete list of studies relating to OptiMSM efficacy. All of this research supports the clear conclusion that OptiMSM is safe, effective, and beneficial to our health.  But, MSM isn't promoted in the same way that drugs are because the profit motives that control our medical system don't create a financial incentive for doctors and hospitals to promote it.  That's why being an informed consumer is so critical.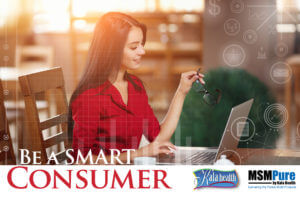 Be a Smart Consumer
Likewise, if you believe that safe, natural alternatives to pharmaceuticals should be available on the open market, be sure to share that opinion with your elected representatives.  Unfortunately, a few bad actors selling adulterated, polluted products threaten the entire dietary supplement industry, which will not be able to survive if government regulators step in and require cost-prohibitive studies before supplements can be sold.  The actions of these irresponsible companies, unfortunately, is yet another reminder of why choosing the RIGHT supplement suppliers is so important.  When it comes to dietary supplements, cheaper is rarely better.  Consumers need to be smart to avoid buying products that are useless or worse, adulterated with harmful additives that aren't on the label.  The only way to avoid this is by buying from a reputable company like Kala Health.  At Kala Health, we aim to give our customers the peace of mind of knowing that our supplements are pure and free of the harmful contaminates that cheaper, frequently Chinese sourced dietary supplements have been found to contain.  Kala Health uses only the finest quality controlled ingredients like OptiMSM, which is made 99.9% pure through a multi-stage distillation process in a GMP-compliant, GRAS-designated US production facility.  We also verify that our ingredients are free of contaminates by paying for third-party testing.  Making our products the way we do, testing them the way we do, and keeping our production here in the United States all costs money.  We spend that money, however, because we take the safety and purity of each of our ingredients with the utmost seriousness.  That's why Kala Health has such a reputation for quality and excellence, and that's why we hope you will choose us as your source for MSM.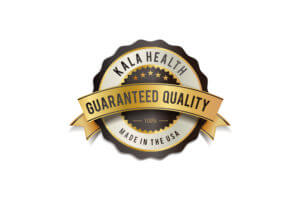 The Kala Health Pledge for Quality
Here at Kala Health, we make it our business to offer the purest and best supplements available.  There will always be cheaper, lower quality products on the market, but our customers keep coming back to us because they know that quality costs.  For over twenty years, we have carefully cultivated our reputation for delivering only the highest quality dietary supplements made from the finest ingredients.  Our entire business model rests on this reputation.  That's why all of our MSM products contain ingredients made by Bergstrom Nutrition.  OptiMSM and its animal equivalent, PurforMSM, are the purest and only GRAS-certified MSM products in the world, and they are made exclusively in the USA.  When it comes to choosing a supplement for your health, we at Kala know that there are no shortcuts.  We wouldn't give a lesser MSM supplement to our families, and neither would we sell a lesser supplement to you.
[3] Pagonis et al., "The Effect of Methylsulfonylmethane on Osteoarthritic Large Joints and Mobility," Int. Journal of Orthopaedics 2014 June 23 1(1), 19-24 ISSN2311-5106.
[4] Marañón et al., "The Effect of MSM Supplementation on Biomarkers of Oxidative Stress in Sport HorsesFollowing Jumping Exercise," Int Journal of Orthopaedics, 2014 June 23 1(1): 19-24 ISSN2311-5106.