COMFORT Geriatric Chewable Tablets
Senior multivitamin plus antioxidants and MSM
Increases nutritional requirements that change and evolve as dogs age
Provides hip and joint support
Improves memory and cognitive function through antioxidants
#1 in taste, contains natural chicken flavor for maximum palatability


100% Money
Back Guarantee

Free Shipping on
Orders Over $39

100% Satisfaction
Guaranteed
Geriatric Senior Wellness Support Supplement for Dogs
Our Geriatric™ Senior Wellness Support supplement helps senior dogs older than age 7 maintain optimal health by supporting their nutritional needs that contribute to healthy aging.
Each tasty, chewable tablet is fortified with 18 essential amino acids and 19 vitamins and minerals that curtail graying fur, weight gain, slow metabolism, and weakened immune function.
MSM (OptiMSM

®

)
Maintains healthy joints, tendons, ligaments, and other connective tissue, supports mobility, and protects healthy cartilage.
Superoxide Dismutase (Bovine Source)

Breaks down superoxide free radicals of oxygen formed during normal metabolic cell processes to oxygen and hydrogen peroxide and protects the body from oxidative stress and tissue damage.
Vitamin C (Ester-C

®

)
Includes patented, non-acidic vitamin C with metabolites that do not upset a pet's stomach and boosts immune health by digesting much longer than ordinary vitamin C.
19 vitamins and minerals

Contains essential building blocks and nutrients to enhance immune system function, improve vision, strengthen teeth and bones, maintain muscle control, promote shiny hair and skin, and improve overall health and well-being.
Amino acids

Transports nutrients and oxygen around the body, serves as a vital component of growth and maintenance of muscle, hair and nails, increases immune system function, and produces hormones.
Bovine liver

Natural source of protein and 18 essential amino acids that keeps pets healthy in their senior years.
Product Facts
Guaranteed Analysis per 2.0 gram Tablet:
(all quantities are minimum unless otherwise noted)
Moisture (max.)
11.2%
Arginine
0.74%
Histidine
0.25%
Isoleucine
0.38%
Leucine
0.87%
Lysine
0.82%
Methionine
0.44%
Phenylalanine
0.44%
Threonine
0.43%
Tryptophan
0.51%
Valine
0.52%
Calcium (min.)
3.8%
Calcium (max.)
6.0%
Phosphorus
3.0%
Magnesium
0.42%
Iron
4.2 mg
Copper
0.35 mg
Manganese
2.0 mg
Zinc
5.0 mg
Selenium
0.007 mg
Vitamin A
1,500 IU
Vitamin D3
150 IU
Vitamin E
10 IU
Thiamine (Vit. B1)
0.10 mg
Riboflavin (Vit. B2)
0.23mg
Niacin
1.12 mg
Pyridoxine (Vit B6)
0.10 mg
Vitamin B12
0.002 mg
Choline
0.75mg
*Methylsulfonylmethane (OptiMSM®)
500 mg
*Superoxide Dismutase (Bovine Source)
250 mg
*Ascorbic Acid (Ester C)
10 mg
*Inositol
0.50mg
*Glutamic Acid
1.30%
*Glycine
0.73%
*Aspartic Acid
0.72%
*Alanine
0.67%
*Serine
0.49%
*Tyrosine
0.35%
*Taurine
0.28%
*Asparagine
0.04%
*Not recognized as an essential nutrient by the AAFCO Dog Nutrient profile.
Calorie Content:
Metabolized Energy (ME) as fed: 2,461 Kcal/kg/tablet
Ingredients:
Whey solids, Natural Flavorings, Methylsulfonylmethane MSM, Bovine liver, Dicalcium Phosphate, Stearic Acid, Vitamin E Supplement, Silicon Dioxide, Ascorbic Acid (Ester C), Zinc Acetate, Iron (Ferrous Fumarate), Vitamin A Palmitate, Manganese Gluconate, Choline Bitartrate, Vitamin D3 Supplement, Niacinamide, Inositol, Magnesium Oxide, Copper Gluconate, Riboflavin Supplement, Thiamine Mononitrate, Pyridoxine Hydrochloride, Sodium Selenate, Vitamin B12 Supplement.
OptiMSM® is a registered trademark of Bergstrom Nutrition, Inc.
Ester-C® is a registered trademark of the Ester-C Company
Feeding Directions (For use in dogs only)
For best results, use daily throughout your pet's life. Give as treat or crumble and mix with food according to the following schedule:
Initial Amount:
Give the recommended amount twice daily on the first day of use.
Thereafter: Feed one tablet per approx. 20 lbs of body weight.
This product is intended for intermittent or supplemental feeding only. Keep out of reach of children and animals. In case of accidental overdose, contact a health professional immediately. Do not use if tamper-evident seal is broken or missing. Store in a cool, dry place.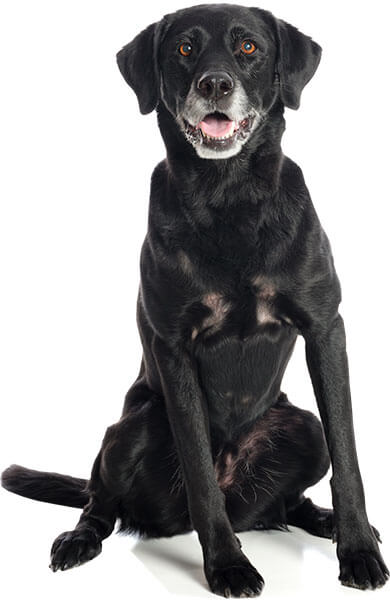 Integrity and Safety Guarantee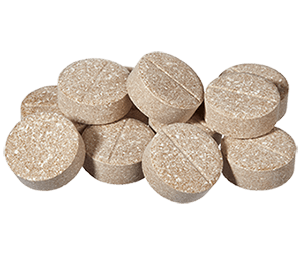 INTEGRITY
We verify and test our ingredients before production. Our products are tested multiple times throughout the manufacturing process.
Ingredient verification

✓

COA for every ingredient

✓

Core tablet hardness

✓

Finished tablet thickness

✓

Core tablet weight

✓

Tablet disintegration

✓

Friability

✓

Active ingredient levels

✓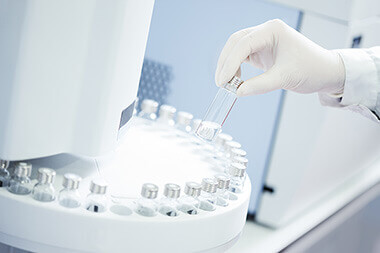 3rd PARTY TESTING
Every batch is 3rd party tested to ensure it is free from harmful microbes.
Microbiology:
Total Aerobic Mocrobial Count: <10 cfu/g ✓
Total Yeast and Mold Counts: <10 cfu/g ✓
Salmonella: Absent ✓
Escherichia coli: Absent ✓
Staphylococcus aureus: Absent ✓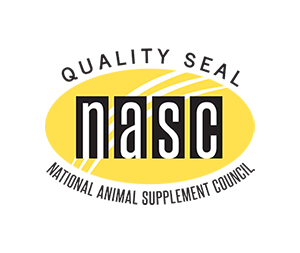 NASC
A  proud member of the National Animal Supplement Council since 2010. The NASC Quality Seal on our products means:
Made in FDA-approved facility

✓

Passed rigorous quality requirements

✓

Passed independent facility audit

✓

Adhere to stringent labeling requirements

✓

Products are subject to random testing

✓

Active ingredients in our products are verified

✓

Provide real-time product monitoring

✓